PEOPLE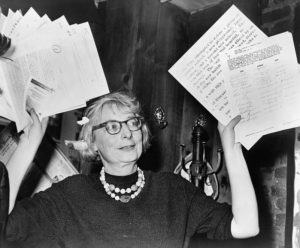 Jane Jacobs: a legendary advocate for sensible urban planning.  Her writing and activism turned the tide in favor of historic preservation, diverse, walkable neighborhoods, and contextually sensitive policy.  In midcentury America, it was fashionable for planners to raze entire districts and drag residents into the future with grandiose projects.  Jacobs' idea was simple: let people dictate how they should live.  Listen; make small, lasting improvements.  Protect community ties.  The debt we owe Jacobs is immeasurable.
ARTICLES
https://www.architectural-review.com
As Antoni Gaudi's sublime folly nears completion, will its original spirit endure?
http://www.atlasobscura.com
Ernst Neufert, the nemesis of whimsy.
http://michigantoday.umich.edu
My uncle's renovation of a local landmark.
https://thecharnelhouse.org
"An architecture which cannot mold itself to the needs of its own time has lost its vital force."
http://gothamist.com
"Can you like the way a building looks but hate what it represents?"
http://realfinishes.blogspot.com
"Classicists largely ignored the social questions and material qualities of their work, continuing to focus on its formal qualities and further refinements."
http://mentalfloss.com
Good, meaningful design for those in greatest need.
https://mentalfloss.atavist.com
Fazlur Kahn, the engineer who reimagined tall buildings and defined Chicago's skyline.
https://www.wired.com
Organic, self-replicating designs with a Giger-esque sense of dread.
http://m.bdonline.co.uk
Leon Krier on the importance of perspective for architects.
http://theconversation.com
"The widespread acceptance of reinforced concrete may be the expression of a traditional, dominant and ultimately destructive view of matter as inert."
http://www.expositionperret.fr
The French master architect and pioneer of reinforced concrete work.
http://www.forbes.com
"If we want everyone's kid to succeed, we need to bring vocational education back to the core of high school learning."
http://thecarpentryway.blogspot.com
Exploring a complex and overlooked element of traditional Japanese roofing.
http://www.aiachicago.org
Great work from fellow Chicago Arkies.
https://www.theguardian.com
"Architects really have to understand the context from the client – the culture, the economics, to the future of the residents who'll live there."
http://www.architectural-review.com
The importance of beauty, ritual, and community participation is reawakened through David Best's ceremonial architecture.
http://www.nytimes.com
The contemporary trend towards artisanship makes a profit.
https://www.ft.com
"Canadian boringness isn't intrinsic; it's something we work at, cherish, and reward."
http://news.nationalgeographic.com
"Even though medieval builders strove to create perfect dwelling spaces for the spirit of God, Tallon's scans reveal that the western end of the cathedral is 'a total mess…a train wreck.'"
http://www.nytimes.com
"One entered the city like a god; one scuttles in now like a rat." – Vincent Scully
http://video.nationalgeographic.com
A great animation about the ancient Roman monument.
https://www.nytimes.com
"We've taught generations of architects to speak out as artists, but we haven't taught them how to listen."
http://apps.chicagotribune.com
"Like Chicago more than a century ago, China is a laboratory where architects, urban planners, government officials and developers are concocting the urban future — both for better and for worse."
http://www.architectural-review.com
"Most 3D printing requires non-recyclable, oil-based plastics and energy intensive processes."
http://www.npr.org
"The average American house size has more than doubled since the 1950s."
http://untappedcities.com
The state-commissioned drawings of Hugh Ferriss defined our vision of the future.  From Gotham City and Star Wars to America's Art Deco skylines, his mark is apparent.
https://en.wikipedia.org
A grassroots movement to plan sustainable, pedestrian-friendly towns for the future.
http://bertrandgoldberg.org
Bertrand Goldberg's unique midcentury designs are part of Chicago's identity.  His preference for standardization was typical of Modernists; the worth of this approach will be judged by the passage of time.
http://www.curbed.com
"The director of Philadelphia's Museum of Art, a building which Abele helped conceive in a classical Greek style, called him 'One of the most sensitive designers anywhere in America.'"
http://www.newyorker.com
An account of souls, not statistics. True courage is seeking to fully understand others, without resorting to abstraction.